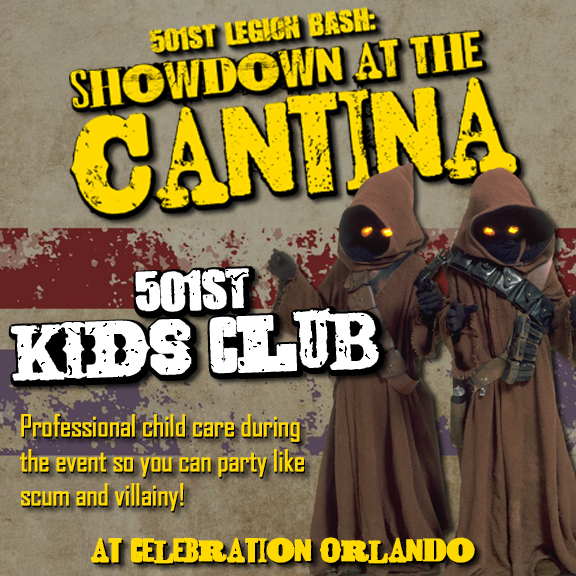 After a long day entertaining the kids at Celebration, why not take the night off? The 501st is offering the 501st Kid's Club to give both you and your kids a fun evening.
The 501st Kid's Club will be available from 8:00 PM – 2:00 AM during the Bash for infants up through 17 year olds. Children must be picked up no later than 2:00 AM. They may be picked up any time prior to that (no refunds for unused time).
Your children will be supervised and entertained by the professional staff of Super Sitters. Each sitter has passed a nationwide criminal background check and been fingerprinted through the Florida Department of Law Enforcement. They are also Infant and Child CPR/First Aid certified. For security, Super Sitters operates a secure process for checking your child in and out. Matching ID bracelets will be given to you and you child and your I.D. will be verified.
Not only will your children be safe, they'll be entertained! Super Sitters will provide a full agenda of activities.  This will include toys, arts and crafts, and both board games and organized group games.  They also provide any needed equipment for infants and toddlers including travel play pens, table top changing pads and pre-school mats for napping. They promise Star Wars themed activities, of course! Younger children and infants will be in a separate area from older children.
Before you purchase a Kid's Club ticket, please pre-register your child with Super Sitter on their website. This will speed up the check in process.
Pre-Register Instruction:

On the Super Sitter calendar, move the date forward to April 15th and find the "Star Wars 501st" event link. DO NOT CHOOSE THE EVENT ON THE 14TH!

Fill in the top section as follows:

Conference Name: 501st Legion Bash

Conference Dates: April 15, 2017

Location of Event: Hyatt Regency Orlando

Hours of Children: 8:00 PM – 2:00 AM

Complete the form with details for your child. The form covers up to three children.
Tickets are now closed. No new Kids Club tickets are being sold.
If you have any questions, email us.
Terms and conditions: No refunds or transfers. Children must be picked up by 2:00 AM on April 16, 2017. Legal I.D. required. Bash ticket must also be purchased.